Perry officer goes above and beyond to help family | News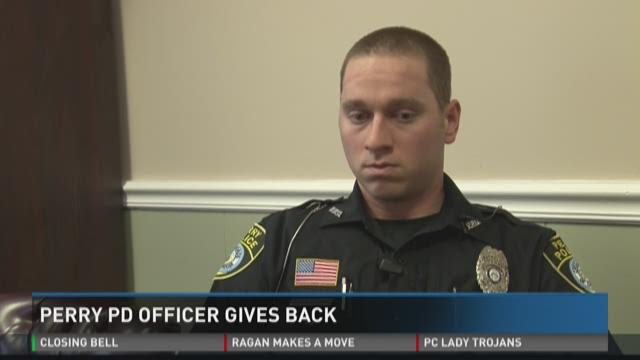 Perry police officers Allen Gylfe and Sgt. Jimmy Jones responded to a call at Fair Hope RV Park on Marshallville Road, one rainy morning where they met 11-year-old Nathan Dunn. He didn't want to go to school. Gwen, his mother, called police in hopes the officers could help change his mind. They did, and then gave him a ride to school since he had already missed the bus. That's when they uncovered the real reason Nathan didn't want to go to school.
"On the ride, to his school, we were talking to him about it and he opened up and said, 'Yeah I didn't want to get wet," said Gylfe. "Because he's got to walk to the front of the RV park to get to the bus stop."
It was after the officers dropped Nathan off at school that they came back to the residence to give Gwen a surprise for her and her son, that she never saw coming.
"I was upset so I jumped back in my bed and laid back down, and there was a knock on the door," said Dunn. "And I opened the door, and I'm like woah, you know? And they came in and hooked me up with two umbrellas and two ponchos. I just started crying immediately. It was really cool."
Gylfe said one of the reasons he got into law enforcement was to help the people of his community. 
"It's not just about locking people up," Gylfe said. "It's about being there for them. You know, and obviously we can't fix all their problems, but every little bit that we can help is good."
And for Gylfe, he just simply wanted to help.
"I figure what's a little money out of my pocket to make their lives significantly better?" said Gylfe.
And better it has been. Dunn said they've already used the rain gear a second time since they got it.
"A couple days ago when it rained again, 'Oh I got my umbrella," said Dunn.