Agility trial held at National Fairgrounds for Atlanta Golden Retriever Club | News
Title (Max 100 Characters)
Agility trial held at National Fairgrounds for Atlanta Golden Retriever Club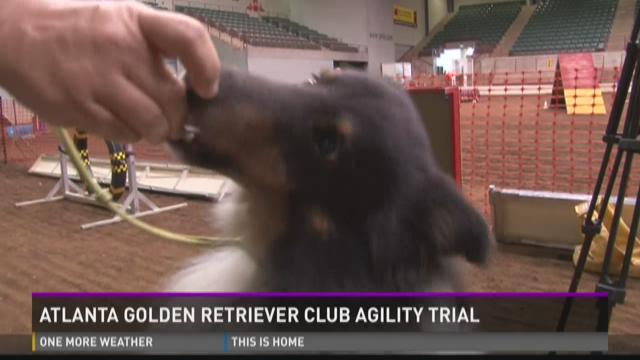 Handlers and their furry friends spent Friday running obstacles at the Georgia National Fairgrounds in Perry.
It's all part of the Atlanta Golden Retriever Club's agility trial. But it wasn't just for goldens, dogs big and small got in on the action. Handlers lead their four-legged partners through jumps, weave poles and a tunnel.
The dogs race against the clock and compete against others in their height category. Terri Everline is the trial chair. She says dogs pick up the obstacles fairly quickly.
"It's not hard to get them to learn, it's actually harder to teach the humans," says Everline. "The dogs get doing the obstacles pretty quickly, it's learning how to get them from one obstacle to the next obstacle, that really takes the most of the time for the handlers."
Jan Padgett had a great run with Moo, her five-year-old Shetland Sheep Dog.
"Anybody that does this sport winds up with a great relationship with their partner, because you basically train together, you play together, and the dog looks to you for all the answers, hopefully," laughs Padgett. "And it just makes a great partnership."
The agility competition continues Saturday, starting at 9 a.m. and running through the early afternoon.
That's in Reaves Arena of the Georgia National Fairgrounds, and admission is free.