Ga. National Fair by the numbers | News
Ready to have your mind boggled? These numbers will make even the most savvy mathematicians' heads spin.
We took a look at the Georgia National Fair by the numbers.
456,023 people entered the 628 acres of the Fairgrounds during the 11-day event last year.
That's not including the 110 volunteers, 70 parking personnel, 50 security officers and 75 police present each day.
And all those folks create a lot of trash. The fairground's staff stocks 600 cans, and people fill them with more than 111 tons of trash.
Let's not forget the electric bill to power all those rides. It typically runs around $60,000 11 days. The water used tops 700,000.
As for the livestock, there's enough to form a small city, or almost 8,000 entries into the shows.
The most impressive number, the rabbits. There are about 1,800 them, which dwarfs the swine and heifer populations at 632 and 464, respectively. The llamas could only cause a relatively small stampede at 75 strong.
What would the fair be without the food?
We couldn't count the precise number of corn dogs consumed, but 73 food vendors dot the property, alongside their 204 non-food vendor counterparts. They come to the single Georgia National Fair location from 28 different states.
While were sure all those numbers made your head spin faster than the tilt-a-whirl, the only one you need to remember is that the Georgia National Fair comes to Perry just one time each year.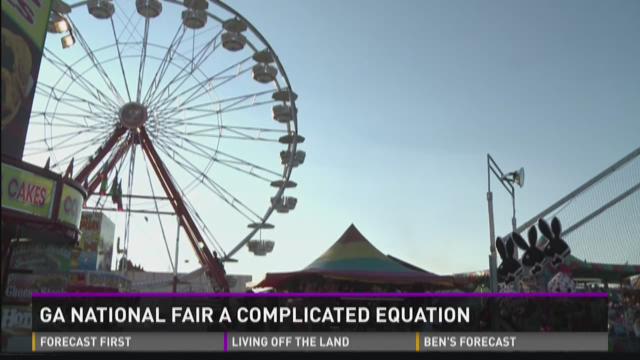 The band "Alabama", which played Saturday night, has sold out every time they've come to the fair. The first time they came in 1999, tickets were $21.50. This year, $50 each.