Million-dollar roller coaster is fair's newest thrill | News
Some like to come for the shows. Other come for the food. And some come for the rides.
You have your old favorites like the ferris wheel and bumper cars, but there are some new thrills making their debut this year.
The Galaxy roller coaster is big, bright, and brand new.
"This is our latest super spectacular that we are bringing to the fair," says Richard Reithoffer, CEO of Reithoffer Shows.
He started swinging, spinning, and catapulting people when the fair began 26 years ago.
"We're ride people," says Reithoffer. "We've always been ride people."
Even rooted in tradition, he tries to raise the bar every year. The Galaxy is now the fastest ride at the fair.
"This is a Pinfari roller coaster, probably one of the most famous roller coaster builders in the world," He explains. "They come from Italy. I started looking at this about three years ago."
It doesn't come cheap with a price tag of about $1 million.
Another new addition is called the Music Express.
"There's a DJ on it, who's playing the most popular music," says Reithoffer. "He asks the kids 'Do you want to go faster?' and they all scream 'Yeah!' So he touches it up a notch. It's a production."
"Each year we have to buy more and more rides!" says Joseph Alberts, who handles the layout of the rides.
He says the number of people rises every time, which means he does some strategizing."[
"We try to make it look very inviting to the public," Alberts says. "When you look way down the midway, you want to see big rides so they say 'Yeah let's get down there!'"
"If you're a roller coaster enthusiast, you've got to ride them all. I ride them all!" Reithoffer laughs.
These are for the big kids or kids at heart. There are also some new amusement for the smaller ones, including a mini Nascar ride.
There's plenty at the fair to bring smiles and screams.
The Galaxy is looking for a new name.
If you check out Reithoffer Shows' Facebook page, they are holding a contest to name the new coaster.
The rides are not the only new attractions to enjoy at the fair. We also spoke with i-Flip, a new aerial stunt show that includes trampoline tricks, trapeze artists, and bungee jumps.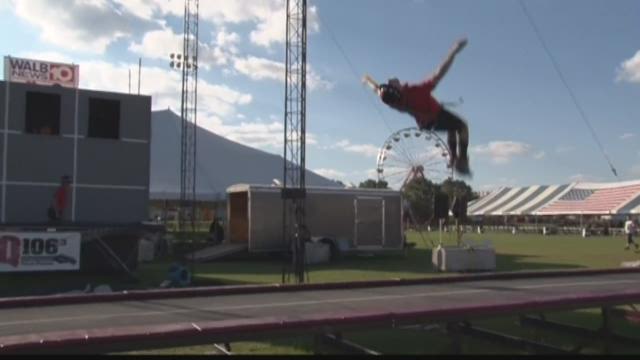 Follow 13WMAZ's Karli Barnett on Twitter and

Facebook.