Perry woman wins thousands on 'Wheel of Fortune' | News
Perry local Jan Morton competed on Wednesday night's episode of Wheel of Fortune.
How did she fare?
"I won the Wheel of Fortune. I can finally say it. I won, I won, I won," says Morton.
Her family and friends hosted a viewing party at Morton's son's house in Bonaire where there was food and fun, including a cake modeled after the iconic spinning wheel from the show.
Morton and her friend, also named Jan, from Atlanta, competed in the "Girls Getaway" themed episode. Morton says they were focused on the prize.
"But the girls in the middle, they were real concerned about what they were wearing," said Morton. "They each had three outfits and they kept talking about they were going to change their clothes and in my mind I thought, 'Oh, you are so distracted. I came here to buy vowels and consonants and win puzzles.' I'm not worried about what I'm wearing."
Morton says when she returned from the trip, she had a lot of questions thrown her way.
"People at work have been saying, 'Where's your new car? We're looking for that new car. Are you going to retire on February 11th?' No, no, no. And everybody tried to find out, but I did not tell a soul," said Morton.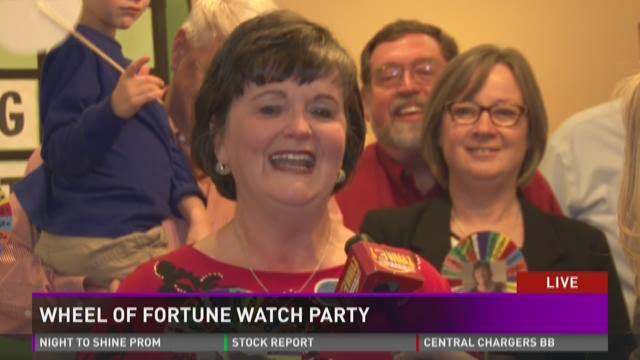 Morton says she didn't tell anyone who won, and everyone there said they were glad to be surprised when she actually won the whole thing, but the longtime Wheel of Fortune watcher says it wasn't the money that attracted her to compete on the show.
"I will tell you this truthfully from the bottom of my heart. I never really thought about the money. To me, it's about the game, winning. I mean, I was there to win," Morton said.
Jan and her partner won $10,000 in cash and $33,000 in the bonus round, as well as a trip to Belize.
The "Girls' Getaway" themed episode of the Wheel of Fortune aired Wednesday at 7 p.m. on CBS.
Morton's family was excited to see her win on her favorite show. Her sister Jo, son Johnathan, and husband Gary share their thoughts on Jan's winning night: